You just know the Brothers of Destruction will be in there somewhere, right? ;-)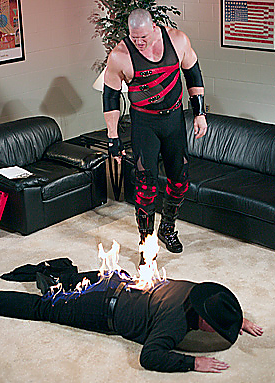 # 15: J.R. Gets Barbecued

From being brutalized by the 350-pound Mankind to having his ankle damn near torn off by Jack Swagger, Jim Ross has survived more than a few attacks in his long career in sports-entertainment. But Good Ol' J.R.'s most horrifying run-in with a Superstar came in 2003 when he was set on fire by the monstrous Kane. As mentally unstable as ever after being forced to unmask, The Big Red Monster became unhinged in the middle of an interview with J.R. and began to shout, "You need to feel my pain!" The maniac then threw Ross on the floor, covered him in gasoline and dropped a lit match on his back. The ensuing terror of the WWE Hall of Famer burning in flames was so disturbing, it has rarely been seen since.

Ask me how much I liked the tights and singlet with the see-through panels. Go on, ask me - I dare you! ;-)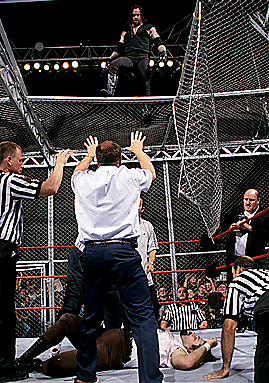 # 10: To Hell and Back

The horrifying sight of The Undertaker throwing Mankind off the top of the 16-foot high Hell in a Cell structure at the 1998 King of the Ring may have been the defining moments of WWE's Attitude Era. It was brutal, but the fact of the matter is what came later was even more devastating. After paramedics attempted to take Mankind away from the ring, the madman broke away from their grasps and climbed back up to the top of the cage, busted shoulder and all. The Deadman, showing no mercy for his battered opponent, immediately grabbed him by the throat and chokeslammed him through the ceiling of the structure. The impact was so vicious, it knocked Mankind out and sent his tooth through his lip and into his nostril.

Holy shit, this match was amazing! Even more so because 'Taker wrestled it with a broken foot! Don't believe me? Watch this match, just after this moment, when 'Taker drops down through the cage to the ring - he does a little hop as he lands. That's the only sign you ever get that he wrestled injured.

And you should buy Mick Foley's book "Have a nice day - a tale of blood and sweatsocks" for no other reason than his story of how this match came about, and his perspective on it. (The fact that it's as funny as hell, and touching, and a seriously good book is a bonus!)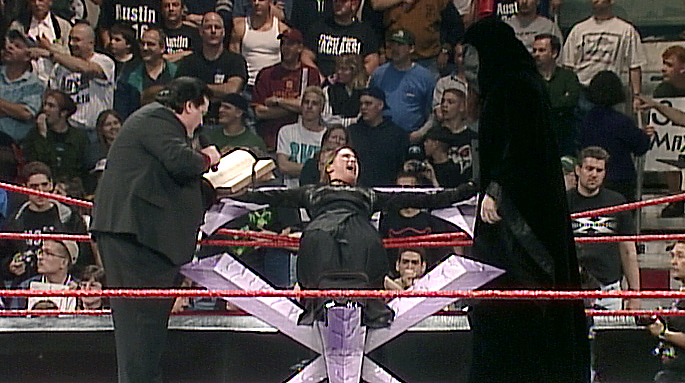 # 04: Sins of the Father

Thirsting for power in the spring of 1999, The Undertaker and his Ministry of Darkness descended upon WWE like a heavy fog blanketing a cemetery and few were quite as terrified by The Phenom's evil intentions as Mr. McMahon's daughter, Stephanie. Following a "higher power," The Deadman and his minions stalked The Chairman's child for weeks before abducting her, lashing her to an ominous Undertaker symbol and forcing her to participate in a twisted wedding ceremony on Raw. Despite his combative relationship with her father, "Stone Cold" Steve Austin ultimately rescued Stephanie from a cruel fate as The Undertaker's bride, but Mr. McMahon's little girl was never quite the same.

Hands up who'd like to have been in Stephanie's place? Yeah, I knew this was the wrong crowd to ask that! ;-)



Check out the full list here at WWE.com!