So, the lovely
dangerpuddle
sent me some hand dyed and hand spun yarn last year. Including this lovely one: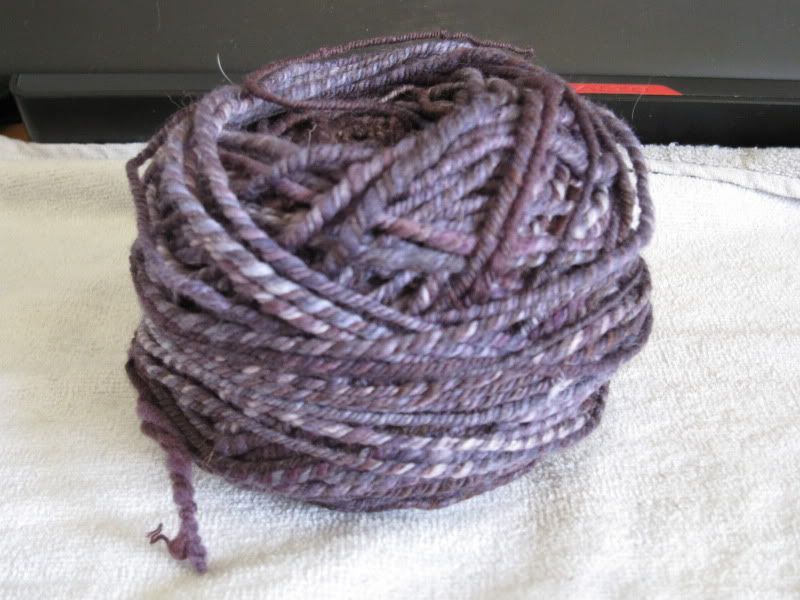 She called this one "Midnight" and I just love the mixes of purples in it.
Anyway, I had no idea what I was going to make with it, until I got invited to a wedding. Next weekend! (The invitation arrived weeks ago, and since I printed them for the bride, I knew in advance of that even!)
I don't particularly want to buy a new dress for the occasion, since anything I do buy is going to be too big before I get any real use out of it again. I thought I'd just wear one of my prettier summer dresses (remember, we're just coming into fall down under), but I knew that since it was an outdoor wedding in mid afternoon into evening, I'd need something to wear with the dress as it cooled down.
I have a pretty and smart black and white dress that would be perfect, and the purples would look smashing with it. So I scoped out some patterns on
Ravelry
, found one I thought would be good and started knitting a few weeks ago.
Problem - not enough yarn! I had thought there'd be enough to make the "triangle" for the shawl, and then I could crochet a wide lace edge around it but sadly that wasn't the case. The pattern used too much yarn.
So I went back to the pattern I used for the pretty striped yarn - it's a better shawl, because of the shape. It wraps right around my shoulders snugly and will keep me nice and warm in the evening.
I figured I'd get the same "length" of shawl in the midnight yarn as I did in the stripey one, but again, my inexperienced knitter's eye failed me. But here's how it looked before I ran out: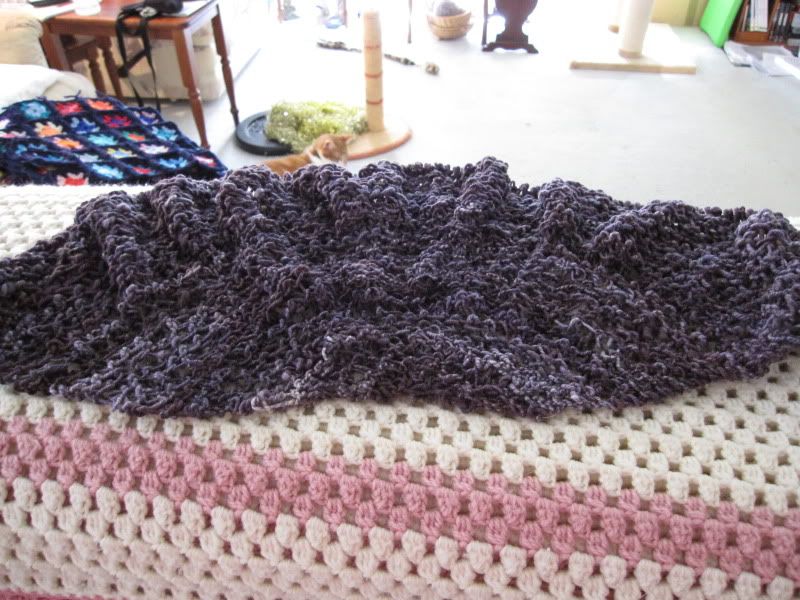 So yesterday, I took a trip not to a yarn store, but to a department store, because their website was showing they stock a yarn brand called "
Sean Sheep
" - isn't that the cutest name for yarn? And the yarn looked fantastic! I took my UFO with me, so I could colour match, and came home with these:
This pretty purple multicoloured yarn is called "Veronica" and it has bits of ribbon and different textures plyed into it. I'm going to use it to "pad out" the Midnight yarn for the body of the shawl.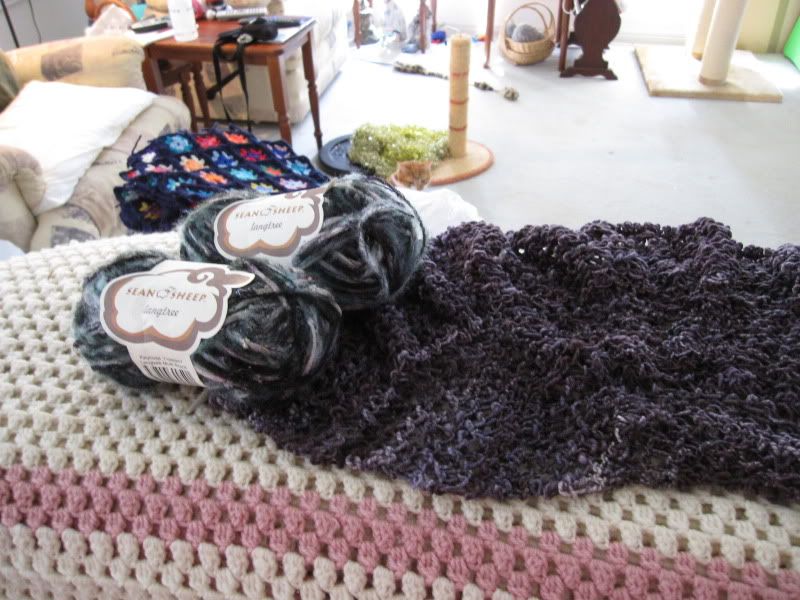 This is a multicoloured black yarn in the same style as the "Veronica" and it's either going to make the lace "ruffle" edge or perhaps even a shawl of its own, depending on how I go!
And because I was so excited about it, I unravelled what I'd done and started again. This is the result so far: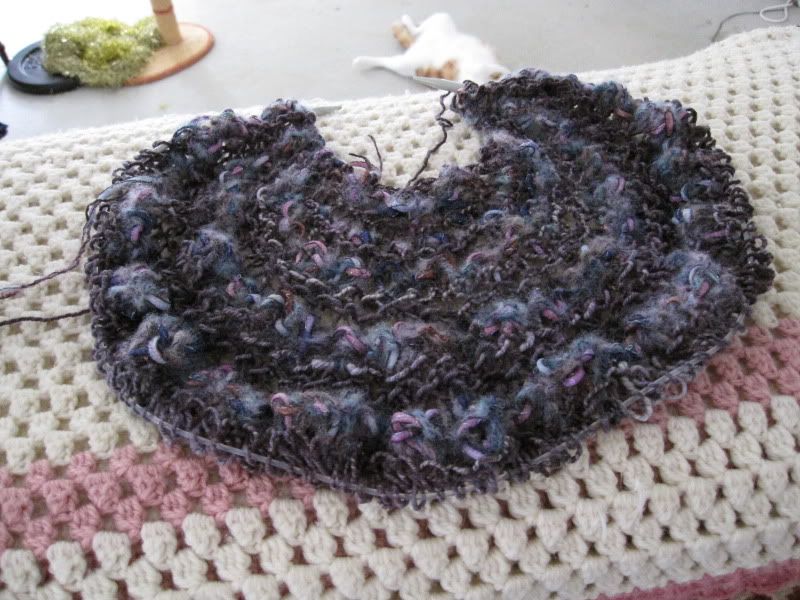 The "Veronica" yarn is a little fluffy, against the smoother Midnight. So far, I've done alternataing bands of two rows in each colour for the first ten or so rows, then went to four rows of each. And shortly I'm going to try eight rows - I want to be able to show each yarn in wide enough strips so it can be appreciated.
And just to keep everyone up to date, here's progress so far on that jewelled afghan:
That huge "stack" is panels of five by five motifs. About three quarters of that stack still needs some stitching, but it's quick stitching because I've done the fiddle piecing together and making sure the colours are jumbled up enough so my OCD brain doesn't flail about because I've got two of the same colour touching, oh noes! -snickering-
And I think I've only got one or two panels left to be pieced together - then I have to decide what to do about the fifty-odd unfinished motifs (as in, the inner two rounds are done but the dark blue round isn't). I'm toying with making up enough for a final couple of rows, and then doing a section of all dark blue motifs where I can embroider my name and the start and end dates of this thing!
Just so it's on the history pages how bloody long it's taken!
But ask me if I'm feeling accomplished! ;-)
Current Mood:

accomplished