Lots of pics behind the cut - you've been warned!



Last week, hubby and I celebrated our tenth anniversary. And he planned a trip for us, to mark the occasion.

Unfortunately, it coincided with a business trip I couldn't get out of . . . so I ended up flying home from that on Tuesday night (during an awesome thunderstorm the pilot ended up going 300km out to sea to try to avoid) and leaving for our anniversary trip the following morning. Not optimal timing, but hey, I was just glad to be getting away!

So, hubby booked us a room at this place:




The Buderim White House Grand Manor is utterly beautiful and so romantic! We had this room:




And this is what was waiting for us in our room:




Those are fresh gardenias . . . which I think was why I ended up with hayfever for the first time in my life! But they smelled so pretty!

Our first afternoon there, we took a short bushwalk to the Buderim State Forest, just so we could go to Serenity Falls. This isn't my handiwork, because I forgot to take my camera with me, but we did end up in this little lagoon, sitting under the waterfall, which was blissful on a hot afternoon!




Following that, we came back and relaxed in our private spa before deciding what to do for the evening - which ended up being dinner and a movie. Because 2012 is a disaster movie and if you're blowing up the whole damn world, I am so there!!

Unfortunately, this happened to coincide with the night they did the midnight showing of Twilight: New Moon and there were way too damn many Twi-wankers hanging about, mooning over the world's sparkliest predator and fang-boy, Edward "I'm as dumb as a bag of hammers because I'm 108 years old and still haven't managed to graduate from freakin' high school yet!" Cullen.

I'm not a fan of Twilight - can you tell? ;-)

Anywho, I was happy because, hello - seen the whole world destroyed! Plus hubby and I found this utterly amazing place on the riverwalk outside the cinemas - Chocolateria San Churro. Oh my freakin' God, Spanish hot chocolate is absolutely to die for!

Then when we got back to our bed and breakfast, this is what awaited us:




You know, they did this for us every single night - I swear, they waited til they heard us drive away, and then crept in like little mice to turn down the bed, refresh the tea tray and even leave little heart shaped chocolates on our pillows!

The following morning, we awoke for breakfast - now this is no ordinary breakfast. We're talking gourmet food, fine china, silver service, on the verandah overlooking the grounds. I swear, I could get used to this in a hurry!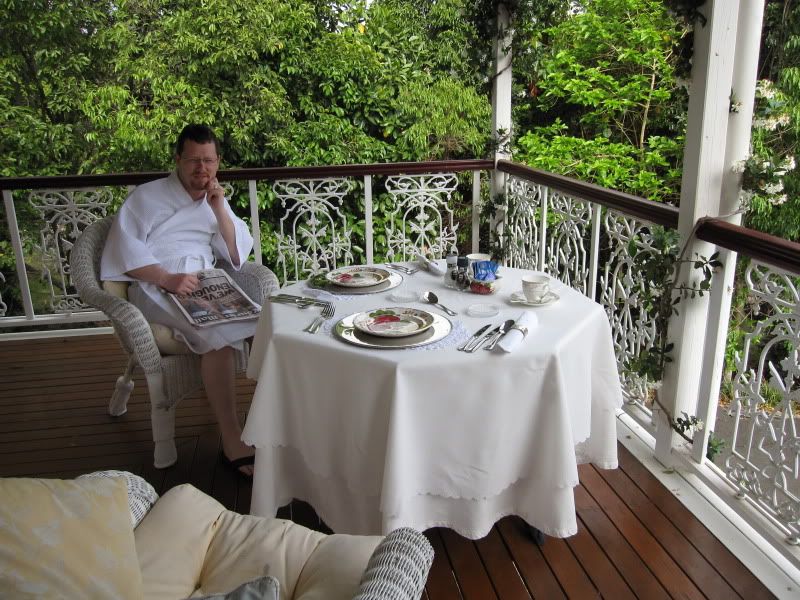 This is the view from our private area of the verandah:




And every morning, this little guy came to visit - Diana, one of our hosts, hand feeds the kookaburras, which accounts for their friendliness. I was sure he'd make a break for the wild blue yonder when I went to get the camera, but he was cool, calm and collected.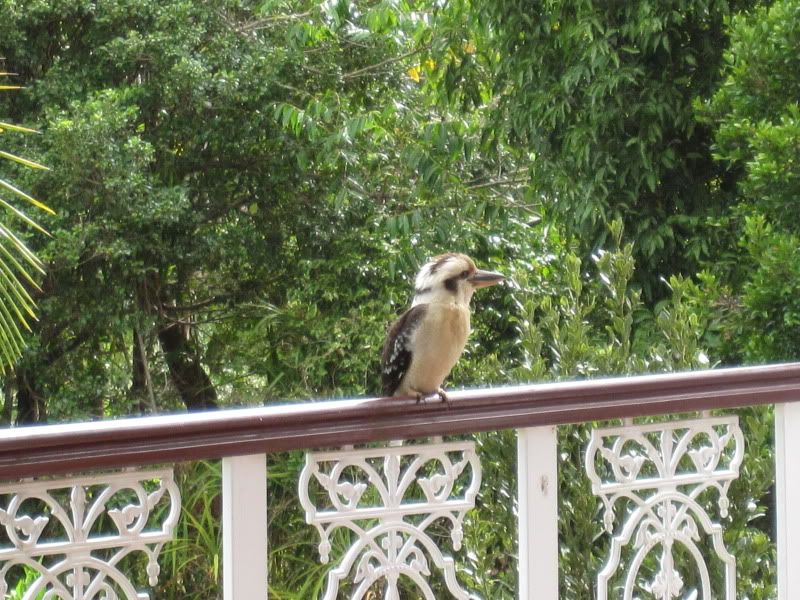 After breakfast, a leisurely shower and then our first day at Steve Irwin's Australia Zoo. We planned to spend two days there, so that we could see everything without rushing.

On the agenda on day one - lots and lots of crocs and alligators! And lizards! Plus koalas. We took in the Wildlife Warriors show at the Crocoseum - their big open air auditorium. And we had our photo taken with a snake!

To be precise, with a Burmese python named Jake. Who has also graced the neck of one Jeffrey Nero Hardy, thank you very much! (Plus, we were at the zoo only four days after Edge visited for Steve Irwin Day.)

Now, this was a pretty big deal for me - I'm not a fan of snakes, as a rule. Probably comes from growing up in a country where we've got like six of the ten most venomous buggers in the world. And having a healthy respect for them bred into me from an early age - where I grew up, it was safer to assume they were all dangerous and avoid them like the plague!

I'll go through snake exhibits and shudder looking at them. But this was a chance for me to conquer my fear. I had planned on just getting up the courage to touch a snake, but hubby convinced me . . . well, actually, he goaded me into it! "Come on, little kids do this - you're just as brave as them, aren't you?"

Bastard!

Anyway, that's how I ended up with the arse-end of a big heavy python draped around my shoulders! Hubby generously took the end with teeth - 160 of them, apparently, although Jake's never bitten anyone.




See? Same same! ;-) -snickering-

And you know, once I'd done it, I was pretty cool with it - I even sat for a bit with the keeper, petting Jake - snakes feel kinda cool, you know?

The last port of call for the day was the kiddie zoo, where I went all ga-ga watching lambs and goat kids being bottle fed. This little guy's name is Diesel and he's just seven hundred and twenty nine different kinds of cute! Check out the tail!



(And damn it, thank you LJ for just losing the second half of this entry for me!)

Back in our room, while hubby napped, I took to the spa. With bubble bath! I had bubbles up over my head! Plus my book and my MP3 player. This is the life, seriously. Hubby's not a big spa fan, but he knows I am, so he chose a place with a spa for me - isn't he sweet?

Day two at the zoo was fiercely hot, and we were darting from shady spot to shady spot while we checked out the Australian natives. Starting with my sentimental favourites, the wombats.

I know they're mostly ill-tempered little buggers, but I grew up with Ruth Park's wonderful stories about the Muddle Headed Wombat. And I mean, how cute is this?




Then it was on to kangaroos and more koalas - hubby doesn't get my fascination with koalas either. But I can't get enough of them! I swear, I visited every koala in that zoo! And got to pet one, which was special!




After lunch, we went to see the exotics - first up, red pandas! That furry lump, with the tail? Is a red panda!




And then, my favourites - the tigers. I could watch tigers all day. They had an extended play session, with one of the trainers getting into the pool with them and their toys. Being a tiger trainer has got to be my dream job - right up there with being a Mythbuster or wardrobe mistress for Kane and 'Taker ;-)




Our final stop was the one I'd been looking forward to the most - because I got to hand feed the elephants! And because we were there on a weekday, there wasn't much of a crowd, so we were encouraged to take a couple of pieces of fruit at a time and to go back in line to do it again if we wanted.

I wanted!! I got to feed Sabu, Bimbo and Siam! And wow - what an experience. To get to stand there and look those big beautiful animals in the eye and feel their trunk as they took the fruit from my hand. And they were so different - Bimbo really curls her trunk around your hand, and Sabu's kinda grabby, where Siam's really delicate about it.




That's me and Siam.

Of course, I did end up kinda liberally coated with elephant spit! -snickering- But that just gave me an excuse for another spa bubblebath, since the room fairies had so kindly refilled the bubblebath container!

And then we had to come back to earth, and our normal life. We were kinda glad to be home - we missed our kittycat. He's a funny little guy - he's not a cuddly boy, but he frets terribly at the cattery and is always very glad when we pick him up.

So, there you have it!

I'm back, refreshed, revived and ready to take on the world! Just as soon as I find someone to start cooking me gourmet breakfasts every morning! ;-)